Where do I start? Seriously! A little help here please.
So we got on the plane no problems. Kids were GREAT until 30 minutes before landing when Kobys sarcasm button was permanently in the 'ON' position & Sonaeyas temper tantrum gauge was a maximum capacity!
Landed, met my sis at the airport, noticed she was rather 'snipey' towards us but put it down to the fact she told me upon landing that she was 8 weeks preggas!
That was a shock let me tell you!
Anyway YEAY for the 1.5 - 2 hour car drive from the airport to our accomodation in Surfers paradise.
Once in the apartment & unpacked I noticed the door to the apartment locked from the outside but not inside so of went Sonaeya for a wander up the next set of stairs to level 2 - insert freak out here!
The tv made an AWFUL high pitched squeeling noise when in use, the oven door glass was hanging out, the dishwasher didn't pump out any water, the kitchen sink & garbage disposal spewed out what looked lik vomit instead of draining away the water, Kobys bed was split & pouring out stuffing from inside the ensemble, our shower screen panel fell off COMPLETELY everytime the door was opened, the toilet flushed when it wanted to & then when it eventually DID flush it didn't stop. Should I keep going?
*SIGH*
Apart from the
run down shack
apartment we stayed in, the theme parks were fantastic!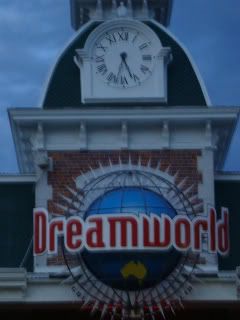 I went on every scary ride I could find as did Koby as long as he was tall enough.
As you can see, Sonaeya didn't meet the height requirements for the rides!
She slept some of the time & wanted to run around for the rest or wanted mummy for cuddles!
Mummy & daddy got up close & personnel with a REAL tiger! That alone cost a small fortune but SOOOO worth it!
Meet Sita our tiger.
Daddy & Koby thought it was great to get matching shirts - shame about the colour though!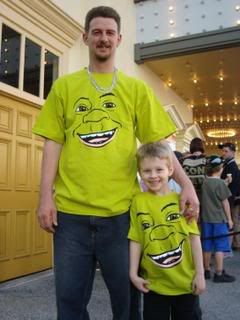 Mummy took daddy on the 'Batman' ride. Basically just a sheer drop whilst sitting in a seat.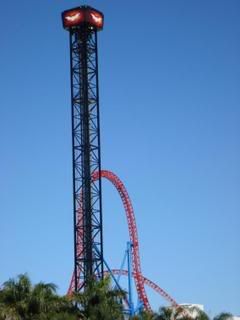 After 2 days straight at theme parks, it was time to enjoy the accomodations outside heated spa.
Sonaeya, who can't swim being as she's 2, thought it GREAT fun to jump straight into the water at daddys head:
We spent our last day at my sisters place & went to the park with the kids. The big kids AND the little kids as you can see here: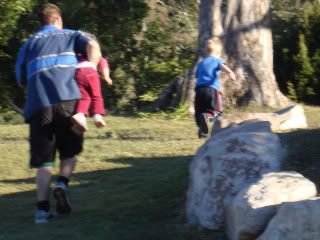 I saw Superman whilst at Dreamworld but he seemed in a bit of bother, as did a guy that strangely resembeled my husband: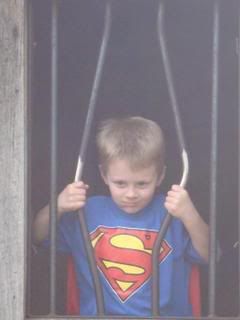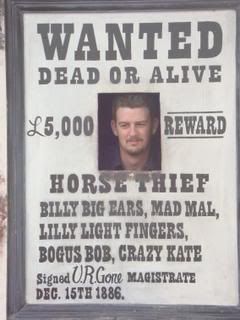 Back to the apartment & packed ready for the trip to stay at my sisters place overnight, before heading on the plane back home. Not so though.
By 8pm (a whole new blog for THAT story) my sister & I continued an argument about her snipey attitude from earlier in the week & she proceeded to kick us out onto her driveway & told us to find somewhere else to stay.
I had to ring a relative in Adelaide to google a taxi service & accomodation for me to ring in Brisbane as I had no idea due to never having travelled out of Adelaide before.
$400 dollars for a taxi, ONE nights accomodation & an airport transfer later, we got to fly home but not until we'd had breakfast provided free by the hotel, upon having us appear at their reception at 9pm with 2 tired little kids who were, scared, hungry & very tired.
The staff even came over with babychinos (no no, NOT coffee but hot choccy in tiny mugs!)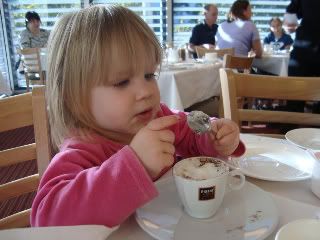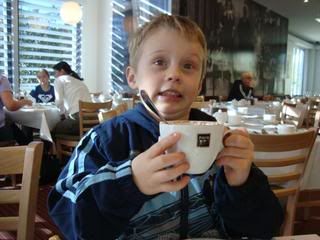 My daughter decided enough was enough, packed her bags & off we went back to Adelaide:
As Porky Pig would say:
"That's All Folks!"